To say London cocktails are expensive is an understatement. Some – should that read 'most'? – are downright ludicrous. Does anyone really need a £100 cocktail served with gold leaves and edible diamonds? While that particular example verges on the extreme, a cocktail in London tends to cost anything between £7 and £22, and the higher end of that range tends to not even elicit a balk. But instead of splashing the cash for consistently below par drinks, and being left high, dry and broke in the process, why not take a different approach? Indeed, taking it in turns with friends to host your own cocktail party could be the answer. With that in mind, here are 5 IDEAL tips for hosting your own cocktail party.
INVEST IN GOOD QUALITY SPIRITS & THE RIGHT TYPE OF GLASS
We know you're trying to save some money by hosting a cocktail party at home, and that's commendable (and achievable). But one element you shouldn't skimp on is the booze itself.  A cocktail party is nothing without good quality spirits and liqueurs (and the hangover much reduced, too). What's more, the type of glass you drink out of changes the taste of the drink dramatically, so consider renting out the right type of glasses for a reasonable price from places like Waitrose and Majestic Wine.  Read our IDEAL guide on how to choose the right cocktail glass if you're unsure of what one to pick for your concoctions.
PICK A THEME
While we cringe at fancy dress as much as the next person, there's nothing wrong with having a clear theme to your cocktail party. If you want to make some cocktails that are sure to please, why not take inspiration from the UK's favourite boozy concoctions and have a classic cocktail theme? According to research, these classics, like the mojito, pina collada and long island iced tea, are the nation's favourites.
If you're based in the capital, bear in mind that Londoners seem to buck the trends seen throughout the rest of the UK, and as such, Cubre Libre, Black Russian and Pisco Sours are the top three cocktails in the capital.
In the summer, you can never go wrong with a classic English garden theme – think pimms and elderflower gin fizzes, and in the winter months, try something more warming involving whiskey. Remember that buying the ingredients for lots of different cocktails can be expensive, so why not ask your guests to each bring one or two ingredients, therefore sharing the financial load somewhat.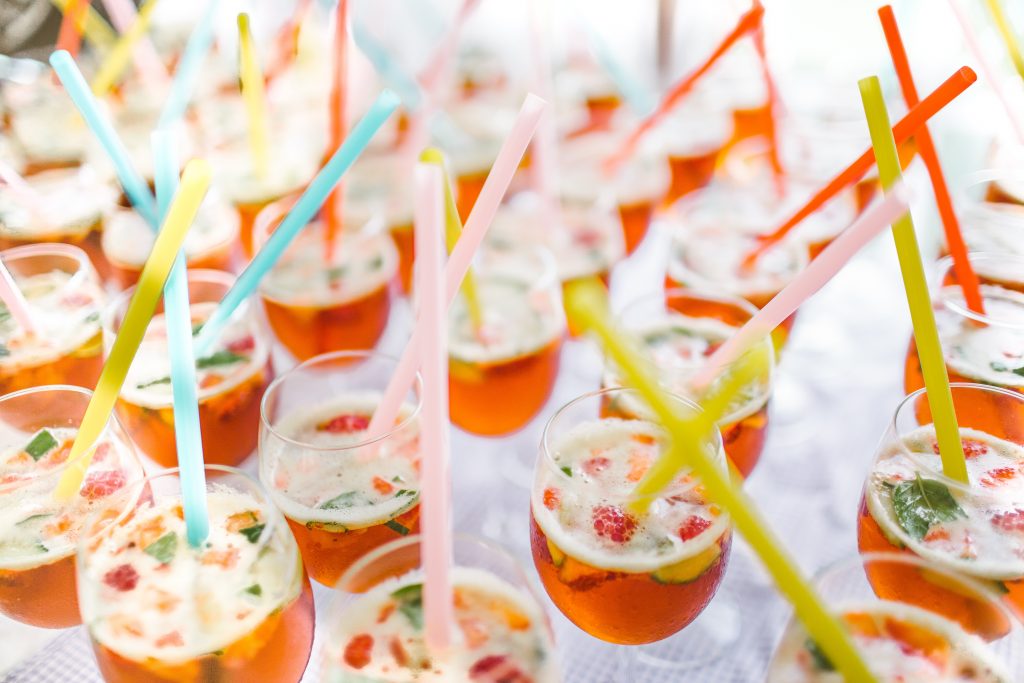 DON'T FORGET THE NIBBLES
When it comes to a cocktail party, chips and dips just won't cut it. While the focus of the party should of course be the cocktails, food comes a close second in importance. You need to encourage people to eat something to soak up all those delicious cocktail concoctions you'll be serving, or there's going to be tears and tantrums and headaches in the morning. Consider matching your food to the party's theme for really synergetic results. Tequila cocktails and mini tacos anyone?  

PREP AS MUCH AS YOU CAN
Your hosting should be as stress free as possible to allow you to fulfill your responsibilities to keep drinks topped up and people smiling. So, prep as much of the food as possible the day before your party, and hang decorations as far in advance as you can tolerate. You could also create a big, preparatory batch of straight spirit cocktails ahead of time – this way everyone can top up their own glass, leaving you with both hands free for waving, hand shaking and gesticulating.